I'll be teaching a block of classes at the beautiful Kitchen Kraft Store on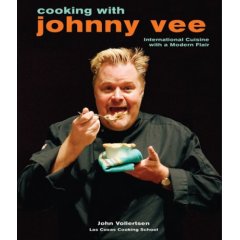 Telshor. Call 575-525-8466 to register. Here are the classes:

"CHILE FEST-GREEN AND RED"
Wednesday, October 5 @ 6 PM-9 PM -$75
With the Green Chile season just ending and the Red Chile season about to begin, now is the perfect time to celebrate both of New Mexico's favorite crops in one class. Our menu includes goodies both green and red. Tonight we make: Tortilla Soup, Chile Rellenos with 3 Batters & Red Chile Sauce, Grilled Jalapeno Poppers, New Mexico Rubbed Hot Smoked Salmon, Green Chile Mashed Potatoes, Green Chile Cole Slaw, and Dulce de Leche Ice Cream with Red Chile Caramel Sauce. Join the fun and get your Chile fix! (Hands-On)
"AMERICA'S FOOD TRUCK COOKERY"
Thursday, October 6 @ 6 PM-9 PM -$75
TV is full of food shows celebrating the delicious hand-held goodies being served around the country at some of America's hottest food carts. Tonight we take your palate on a culinary road trip and recreate edible wonders including: Korean Pork Tacos, Sweet Crab Rolls, Buffalo Sliders, Mexican Gorditas, Shrimp Po-Boys with Jalapeno Mayo, Truffle Fries, Gourmet Ice Cream Sandwiches and more. No need to wait in line tonight! (Hands-On)
SAUCE MASTER CLASS"
Friday, October 7 @ 6 PM-9 PM -$75
The secret to great cooking is having a few homemade sauces
up your sleeve. Tonight we arm you with exactly that.
First we will discuss how to make vegetable, chicken & seafood
stocks, and then prepare a complete menu featuring: A Great Red
Sauce, Alfredo Sauce, Red Chile Sauce, Green Chile Sauce, Beurre
Blanc, Marsala Sauce, Hollandaise, Mayonnaise, Crème Anglaise,
and Homemade Caramel Sauce. This class is an absolute must for
home chefs that want to improve their skill. (Hands-On)
"MASTERING ITALIAN COOKERY"
Saturday, October 8 @ 1 PM-4 PM -$75
Perhaps the most popular cuisine in the world (well the Italians
think so anyway) is explored in this menu of great regional Italian
classics. Our recipes represent the flavors we love when
cooking this popular cuisine. We will make Focaccia, In-the-bowl
Caesar Salad, Tortellini al Pesto, Scallopine Milanese, Garlic
Spinach, and Creamy Tiramisu. Homemade pasta dough making
techniques will be included in our instruction. (Hands-On)
Hope to see you there!