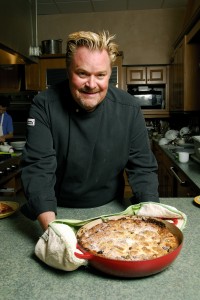 Here are the classes I will be teaching at the beautiful Kitchen Kraft store in Las Cruces in June. Come join the fun:
-Cooking Classes June 2012-
"LEAVE THE OVEN OFF-
SUMMER MAIN COURSE SALADS"
Thursday June 14 @ 6 PM-9 PM -$78
It's too darn hot to turn on the oven or stove but you don't want to serve just
simple salads to your guests or family. Tonight we look to international recipes for
satisfying seasonal salads filling enough to be the main course. Our menu includes:
Fajita Ceasar Salad, Grilled Thai Beef Salad, Middle Eastern Fattoush with Zahtar Chicken, Grilled Gazpacho Salad with Shrimp, Panzanella- Italian Bread Salad, and
For dessert: Chocolate Peanut Tacos. Add these recipes to your summer repertoire and stay cool with this delicious menu. (Hands-On)
"PAELLA PARTY"
Friday June 15 @ 6 PM-9 PM -$78
Paella parties are the perfect way to entertain this summer. Join chef
Johnny Vee as he teaches the fine art and nuances of making this
tasty "One Dish Wonder." We will make a traditional version chock
full of spicy chorizo, chicken, shrimp and clams- as well as a
vegetarian version that includes smoked artichokes and grilled
eggplant. Traditional tapas including Garlic Shrimp, and Manchego &
Membrillo will round out our menu as well as a rich Spanish Flan for dessert.
Join this celebration of Spain's most famous dish. (Hands-On)
"TOP SECRETS FOR GRILLING"
Saturday June 16 @ 10 AM-1 PM -$78
Time to head outdoors and hit the grill running. Today we
equip you with the skills you need for perfect grilling
as we discuss smoking, dry rubs, wet rubs, sopping sauces
and marinades. Learn important do's and don'ts for summer BBQ
success. Our menu includes: Jerk Chicken, Beef with Salsa Verde,
Caramelized Onion BBQ Sauce, Hungarian Beef Skewers, Thai Hot
& Sour Pork, and some great sides including Smoked Potato Salad,
Asian Cole Slaw and for dessert: Buttermilk Biscuit Strawberry Shortcake.
Summer is here-get grillin'! (Hands-On)
Our Chef:
Chef John (Johnny Vee) Vollertsen is director of
the 12 year old Las Cosas Cooking School in
Santa Fe. His cooking and restaurant management
career has taken him to New York City, Sydney,
and Wellington, New Zealand. John writes a
regular food column for The Santa Fe New
Mexican and is the Food + Dining Editor for The
Santa Fean magazine. www.chefjohnnyvee.com
For Registration:
Please Call (575) 525-8466 and have ready:
Date & Time of class, Credit Card # or pay by check,
(Please allow 3 days for check to arrive) or stop into
Kitchen Kraft and register in person at our customer service counter.