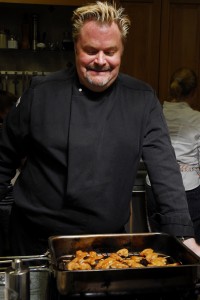 "TOP SECRETS FOR GRILLING MEATS"
Wednesday, June 5 @ 6 PM-9 PM -$78
                                                        Time to get ready to head outdoors and hit the grill running!
Tonight we equip you with the skills you need for perfect grilling
as we discuss smoking, dry rubs, wet rubs, sopping sauces and
marinades. Learn important do's and don'ts for summer BBQ
success. Our menu includes: Jerk Chicken, Beef Tenderloin with
Salsa Verde, Hungarian Beef Skewers, Rosemary Lamb Chops
with Mustard & Mint, Sweet Sesame Pork, Thai Hot & Sour Ribs, and
 some great sides including Smoked Potato Salad, Rum Glazed Pineapple,
Chile Lime Corn, and Minted Strawberry Shortcake. (Hands-On)
"I WISH I KNEW HOW TO GRILL FISH"
Thursday, June 6 @ 6 PM-9 PM- $78
Grilling fish is fast, easy and healthy. Tonight we prime you for  great
fish grilling. We'll discuss which seafood is best cooked on the  grill
and create an enticing menu of marinated, sauced, and grilled  goodies
including: Sausage & Oyster Grill, Tandoori Shrimp with  Chutney,
Bacon Wrapped Trout, Citrus BBQ'd Halibut Kebobs, Cured  Salmon
& Hot Mustard Sauce, and Blackened Snapper with Jalapeno  Coleslaw
and Hushpuppies. Chef Johnny Vee hears this regularly, "How do we
grill fish?" Tonight we deliciously answer that question.  (Hands-On)
"DINNER IN A TUSCAN FARMHOUSE"
Friday, June 7 @ 6 PM-9 PM -$78
A sell-out class in April we reprise this great menu of Italian goodies.
 Join us as we pretend we are dining in the hills of beautiful Sienna, Italy
via a menu of specialties from this popular tourist destination. We will
discuss the culture and detail the differences of classic Tuscan cuisine and create
 a menu of tasty dishes including: Tuscan Bread, Tuscan Tomato & Bread Soup,
Potato & Pecorino Ravioli with Zucchini & Tarragon, Tuscan Meat Balls in Sauce
  and for dessert: Apple, Almond & Rosemary Flan. Don't miss this very special
menu and delicious evening. Molto Bene!!! (Hands-on)
"VIETNAMESE & THAI FOOD CART"
Saturday, June 8 @ 10 AM-1 PM -$78
No other street food is more delicious, exotic and healthy than
the tasty foods of Viet Nam and Thailand. Today we prepare a whole menu
of luscious finger and bowl foods like you'd find from authentic food carts in those exotic countries. Our menu includes: Grilled Pork Skewers, Thai Fish Cakes, Deep Fried Shrimp with Garlic & Pepper, Sizzling Crepes, Banh Mi Sandwiches, Rich Beef Pho, Coconut Rice, and Black Sticky Rice Pudding with Mango. Don't miss this scrumptious menu. (Hands-On)
"KNIFE SKILLS WORKSHOP"
Saturday, June 8 @ 2 PM-4 PM -$25
By popular demand, a special class to introduce our students to the
fundamentals of good knife skills; holding, chopping, sharpening, and
 knife storage. We will practice cutting a variety of vegetable shapes
 including dice, julienne, mince, and brunoise. Meat trimming and
boning will be covered as well. Knives will be supplied for practice
 but students may bring their own knives as well. (Hands-On)